MTF Botany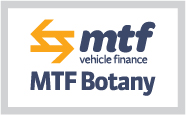 12 Amera Place
Unit F
Huntington Park
Contact: Dolly Gorasia,

Phone: 092723000
SEND MESSAGE
VISIT WEBSITE

A trusted source of vehicle finance since 1970, MTF is one of the largest Motor Vehicle financers trusted by customers, bankers and investors alike with a nationwide network.
MTF makes your purchase of cars, trucks, boats, caravans, horse floats and motorbikes easy. Whether you're buying from a dealer, privately or online, MTF can help. You can also get a personal loan, using your vehicle as security.

MTF products include credit contracts, finance lease, payment waiver, Motor vehicle insurance and mechanical breakdown insurance. We pride ourselves on working with transparency, honesty and integrity.

Call us now to discuss your needs.